LEND US £100M
May 10th - 12th. 2002
21, Dingley Road, Clerkenwell, London
Space courtesy of 21, Dingley Road, residents
Fabio Almeida, Michael Ashcroft, Juan Bolivar,
Nick Dawes, Neil Hamon, Justin Hibbs, Ian Monroe, Shoko Murakami, Mathew Gooding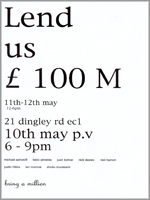 "The present residents of 21, Dingley Road, EC1 have allowed us the use of their home for this one weekend, for what will be a unique occasion - to see work in this 'Twilight Zone Home'. The exhibition is superbly located just off City Road in east London, a stone's throw from the Victoria Miro Gallery and a pinch from One In The Other."
Press release for 'Lend Us £100 Million'
We didn't plan to do a second show, but six months had gone by when people began to ask when the next TRAILER would be. One Sunday morning we began our search for a possible venue and returned to Calvert Avenue, where we had 'left off'. We walked in a north easterly direction and we came upon 21, Dingley Road, a former mini cab base and before that a public house. After engaging in conversation with one of the residents about some drawings of animals which had been made on the road outside, we were invited in to view the property. When we explained our motives, the invitation was not far behind.
We decided to use the ground floor of the house and hold the exhibition for a weekend only, as it didn't feel right to impose on the hospitality we had so fortuitously encountered.
We spent three days cleaning and tidying and decided to leave the 'fake wood' paneling that seemed to cover every surface of the ground floor. The show was hung in a couple of days and on the Thursday night before the opening, we received a call from the Dingley Road residents, their once abandoned living room had now transformed into a gallery and wished to thank us.
The boys from Dingley Road went on to have a number of exhibitions in their ground floor and cellar which became known, as 'City Radio Cars'