BLONDES BUY MORE PEROXIDE
November 23rd - December 6th. 2002
1 000 000mph Project Space, London, E2
Isha Bøhling, Juan Bolivar, Hiroe Komai, Kirsten Lyle, Sheena Macrae, Hiroaki Morita, Pam Richardson & Kevin Smith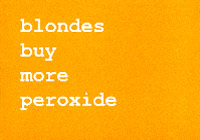 During the last days of Guns and Roses we had a visit by two very animated-Canadians, Kate Grieve and Dallas Seitz. They were starting a Project Space in Bethnal Green and wanted us to curate a show after having seen Guns and Roses.
Opportunities like this do not fall into your hands every day and they tend to fade away without a prompt response. So we started working on an idea for a show the following day.
The idea of TRAILER being a nomadic gallery was starting to develop. But we had never set out to establish an artists collective or to represent artists. TRAILER was an opportunity for artists to exhibit their work and participate within a critical debate. Because of this, the shows so far had been staged in a theatrical manner to act as 'showcase' of current contemporary art practice by London based artists, but we felt that our approach this time had to be more focused.
1 000 000mph Project Space itself once used to be a betting shop, now transformed with a simple neo minimalist layout. From the outside the space still retains aspects of the former betting shop but on the inside it could quite easily be a designer furniture shop like the ones that now appear overnight in Columbia Road and Brick Lane. Rather than disguising this fact we decided to use this sense of ambiguity to choose and set the work in a way that echoed this ambivalence.
In order to convey this idea of how 'first impressions' are formed, much of the work had a strong emphasis on the way that 'surfaces' carry meaning and reveal as well as conceal information. We also managed to borrow some lights from Habitat to give the space a softer atmosphere which would complement the general aesthetic of the show. In the 1 000 000mph Project Space you absorbed most of the experience as soon as you walked in.

We were very grateful for the freedom and opportunity provided by Kate and Dallas to invite us to do this show. We had met some new artists and TRAILER was beginning to feel like a 'snowball', with artists from previous shows in the centre and newer artists being gathered in its path.