GODZILLA
October 25th - November 9th. 2003
SoDa Space, 2-10 Hertford Road, De Beauvoir Town, E8
Space courtesy of Investland Property Developers
Jo Addison, Fabio Almeida & Julie Verhoeven, Sarah Baker, Jonnie Bassett, Isha Bøhling, Juan Bolivar, Mauro Bonacina, Caroline Brockbank, John Chilver, Nick Dawes, Gerard Hemsworth, Clare Gasson, Lucas Golding, Mathew Gooding, Kate Grieve, Neil Hamon, Sam Herbert, Gunther Herbst, Justin Hibbs, Andy Hsu, Max Hymes, Mandy Lee Jandrell, Hiroe Komai, Hattie Lee, Georgina McNamara, Ian Monroe, Christina Niederberger, Mirja Okansen, Christopher Paquet, Pam Richardson & Kevin Smith, John Richert, Greg Rook, Dallas Seitz, Brent Stewart, Michael Stubbs, Richard Wathen, Leon Woolls, Neil Zakiewicz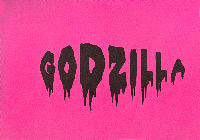 2003 was the year of the first FRIEZE Art Fair and a group of east end galleries and independent artists run spaces came together to form CAPRI. The purpose of CAPRI was not to stage an 'alternative' Art Fair, but to produce a map which would locate their 'place' within the fabric of London's contemporary art scene and to launch this map with a party in Vyner Street the week end of the Fair.
Because of our involvement in staging exhibitions which had taken place in London's east end, TRAILER a 'virtual' gallery was invited to participate in this event.
The only problem was finding a suitable space in October which would coincide with CAPRI and the Frieze Art Fair.
We were thrown a lifeline and a space came up which was a former bus depot.
We met an agent for the developers outside the space by the bright pink boarding. What we found inside was a 'monster' of a space.
It was like standing at the bottom of the Grand Canyon. We noticed was that there was a double decker bus inside the space, as if it had been swallowed by this 'monster'. The bus looked small, it was about eighty meters away and it was only two thirds the height of the roof. We wanted to walk away and forget the whole idea, but we could not do it, much in the way that people in horror movies always manage to make their way to the cellar, against all rational judgment.
Most of the wall area was covered in their entirety with a variety of pipes and and extractor fans which once would have ventilated the space. So we decided to build plinths and rest the paintings on this network of pipes and also some free standing walls for smaller works, which would also help define the space. This took about two weeks with the generous help of a furniture designer called Karl Marrow without whose help the project would not have worked.
In addition to the main 'arena' there were some adjoining rooms, six working areas in total, housing the work by forty artists, our biggest line up so far.
There would be one thousand bottles of beer waiting to be picked up off the floor the morning after the private view.