CINDERELLA
July 16th - 31st. 2004
Tower Bridge Building Complex, 100, Clements Road, Bermondsey, SE16
Space courtesy of Workspace
Michael Ashcroft, Sarah Baker, Diann Bauer, Isha Bøhling, Juan Bolivar, Mauro Bonacina, Caroline Brockbank, Ellen Cantor, Lior Danzig, Nick Dawes, Machiko Edmondson, Doug Fishbone, Matt Franks, Lucas Golding, Matthew Gooding, Steve Green, Neil Hamon, Gerard Hemsworth, Sam Herbert, Justin Hibbs, James Hopkins, Andy Hsu, Max Hymes, Mandy Lee Jandrell,Hiroe Komai, Kirsten Lyle, Christina Niederberger, Sheena Macrae, Karl Marrow, Ian Monroe, Christopher Paquet, Lisa Pock, Pam Richardson & Kevin Smith, John Richert, Neal Rock, Dallas Seitz, Joel Tomlin, Julie Verhoeven, Richard Wathen, Beth Williams, Neil Zakiewicz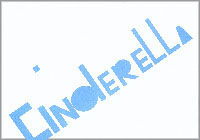 "Before every great fortune there is a crime." Balzac.
Press Release for 'Cinderella'
At the opening of Ready Steady Go we met a smartly dressed lady who seemed to be enjoying the show. Her name was Maddy Carragher one of the Directors from Workspace Group Plc. and casually mentioned in conversation that 'she' (Workspace) had another "beautiful space" available near Tower Bridge. It was like music to our ears and within days we had arranged to meet the site manager for the Tower Bridge Business Complex. Her name was Hilary Best who coincidentally was a Fine Art graduate and took great interest in our proposal.
This building in Bermondsey once used to be a biscuit factory and now housed an assortment of businesses, but two large units in the fifth floor, were empty at the time.
Unit A501, in itself split into two sections was as Maddy had described a "beautiful" space resembling a ballroom. Unit A502 also split into two rooms, was a smaller, colder and more desolate place.
The difference between the two Units was such that they resembled opposite sides of a coin. As you walked from one unit to the other through an interconnecting bridge it felt like walking through a story unfolding much like in the movie 'Carrie' where a fairytale suddenly turns to horror.
We were fortunate enough to be granted use of both units which we 'nicknamed', 'Il Palazzo' and 'The Ballroom' (Unit A501) and 'The Scullery' (Unit A502), where we showed the work of forty two artists.

TRAILER we had had the opportunity to rent one of the units we had used in order to have a permanent gallery space, but instinctively this never felt right.
Now on our seventh show, it felt like being a long way from home, at times frightening and at times fun. It had not become 'easier' to continue, but it had becoming more rewarding. And ultimately TRAILER's momentum had been maintained by the artists who had come on board.