REVOLUTION
October 17th - 24th. 2004
Mare Street Studios, 203-213 Mare Street, Hackney, London
Space courtesy of Workspace
Juan Bolivar, Piers Clemett, Andrew Grassie, Stewart Gough, Gunther Herbst, Sam Herbert, Andy Hsu, Max Hymes, Hiroe Komai, Julian Hughes-Watt, Jost Munster, Pam Richardson & Kevin Smith, Hans Scheirl, Michael Stubbs, Rob Welch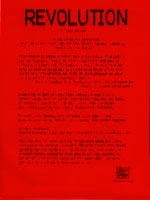 "With modernism begins a revolt that writes itself in as well as against language. Poetry in France, especially from 1850 on, initiates a revolution. It seeks to subvert the world and the word, to open consciousness to untried experiences of the real, and to call into
question the forms of representation by which society and culture
maintain their power."
Richard Stamelman; from 'The Poetry of Revolution and Modernism: Baudelaire, Rimbaud and Mallarme'.
Press Release for 'Revolution'
Revolution was a show where everything seemed to come together at once. There are times when a 'space' sets the tone for an exhibition and there are times when new artists works requires a specific environment . But with Revolution, both criteria converged at the same time.
As October 2004 approached, London's art community prepared itself for the arrival of the second 'Frieze Art Fair'. This year CAPRI would run again, but this time in a 'Newspaper' format with pictures of the 'fascia' of gallery spaces featured in it. Once more we set in search for a temporary space to coincide with the Fair and Capri.
It is not easy to find affordable, free, large, empty spaces suitable for staging art exhibitions. Whether you have one week or one year to achieve this task, it always seems impossible and on this occasion it almost was, until we e-mailed Maddy Carragher from 'Workspace', who came to our rescue with the offer of a space in Mare Street available during the period required.
The space in Mare Street Studios that we were shown used to be a vintage posters and magazines suppliers. It had the appearance of being vacated suddenly, overnight, the only remaining evidence of habitation being a kitchen sink and the markings on the floor from torn down walls and ripped carpet. A place not entirely without hope, but where hope had once been more abundant.
In the end the show resembled not a gallery or a 'warehouse show' but a forgotten museum. Even the private view had a different 'feel', with a saxophone player we had met busking on the Holloway Road, wandering at the opening and filling the space with echoing melancholic sounds.